Ive reviewed a wide variety of products
in
the last few months and Im excited to be sharing a gorgeous, elegant speaker with you today.
Its a hot English Summer day and we are making the most of this glorious weather, but those Summer days can be made better with some sounds, whether its for your barbecues, days out in the park at the beach or in the comfort of your own home.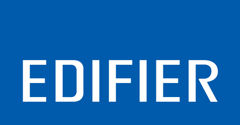 So when I was kindly offered this portable Bluetooth speaker from Edifier, I just couldn't resist those sleek elegant curves.
So grab a coffee and snack and checkout my video unboxing, 1st impressions and full review below.
I cannot resist small portable speakers Im on a mission to find the smallest with the best Bass, as Im a bit of a rock chick and I do love my Bass.
So here is my full unboxing, 1st Impressions and you get hear the actual sound quality to help make up your own mind.
NOTE: I recorded this video on my new Canon Powershot SX720 HD at the highest quality so I feel you are hearing what I was hearing.
Packaging
It arrived well packed directly from Edifier and inside was a well designed box with inner window to see the whole of your speaker; with enough tease details to make you want to get it out the box fast.
Inside the box you get your gorgeous elegant speaker with USB charging cable and an auxiliary cable so you can use it with other devices that are not so modern.
Plus I love that you get a wrist strap too.
This excellent quality Edifier speaker has 2 x 2 watts of power with the speakers either side of the Edifier logo. It has Bluetooth 4.0 but is also backwards compatible with 3.0 and 2.0.
The frequency for those that want to know is 200Hz-20KHz .
Its powered by a 950mAh battery so will hopefully last up to 10 hours they claim.
It also has Near Field technology for those of you that have your music files on your devices. It gives you a variety of options to play your music however you may have it stored.
This beautifully compact little speaker is only 5.2cm long and 3.3cm wide making it perfect to pop in your bag or glovebox. Just checkout how small it is in your hand, you can see this more clearly in my video review...if you haven't seen it yet.
Answer call button.
Rewind/previous track.
Play or pause.
Fast forward or next track.
Minus volume.
Plus volume.
DC in for charging cable.
On/Off switch and/or mode/source switch.
Auxiliary cable port 3.5 jack.
Micro SD slot. (they even show you a little image).
I have to mention the on/off source switch as it does a few different things, obviously the on and off, but once switched on you get a bing bong...love this.
Blue for Bluetooth...obviously..hi 5 Edifier for this.
Red LED for which your using your Micro SD Card.
Green when you wish to use your Auxiliary cable.
This I think is a really neat way of using this speaker..very simplified.
You also have some of the basic user instructions here too so you don't have to worry about losing your user guide or leaving it in the box at home. Its always with you.
You may have your music stored on 1 device like me or across variety of devices, this speaker caters for them all. You have the option of using Bluetooth or NFC we've already mentioned. But you also have an auxiliary cable for older devices with no Bluetooth.
One of the fun things apart from playing music is the fact that when your playing music via your phone you never have to miss a call again, no need to turn it off. The speaker has its own cool ringtone and will turn your music off then play its own ringtone.
You then simply press the little telephone button on the top to answer your call hands-free; where you then talk normally into the speakers own microphone...like it was a phone handset.
Then once your caller or you has hung-up, the music continues exactly where it stopped. This is fantastic for those of you that work from home, or in the middle of cooking, feeding baby etc.
All my thanks goes to Edifier for kindly sending us this beautiful speaker to share with you all for this review.
All my images are mine unless otherwise stated.