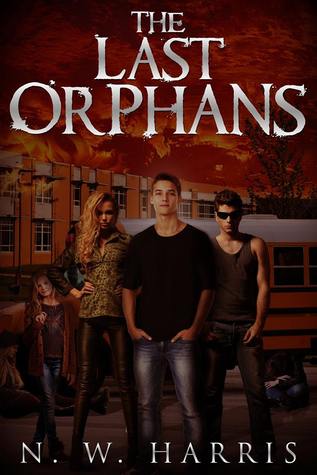 By N.W. Harris
I was kindly contacted and offered this young adult book for an honest review from Mr Harris; Id normally say no to YA genre; but after seeing the cover and seeing the young kids were teenagers not 8-9 year old's I changed my mind and was actually intrigued by this book. This is the first time I have been completely swayed just by a cover of a book.
So you can judge a book by its cover sometimes, it worked for me!
Blurb
One horrifying day will change the life of sixteen-year-old Shane Tucker and every other kid in the world.

In a span of mere hours, the entire adult population is decimated, leaving their children behind to fend for themselves and deal with the horrific aftermath of the freak occurrence. As one of the newly made elders in his small town, Shane finds himself taking on the role of caretaker for a large group of juvenile survivors. One who just happens to be Kelly Douglas—an out-of-his-league classmate—who, on any other day, would have never given Shane a second glance.
Together, they begin their quest to find out why all of the adults were slaughtered. What they find is even more horrifying than anything they could have expected—the annihilation of the adults was only the beginning. Shane and his friends are not the unlucky survivors left to inherit this new, messed-up planet. No, they are its next victims. There is an unknown power out there, and it won't stop until every person in the world is dead.
A spine-tingling adventure that will have you gasping for breath all the way until the last page, The Last Orphans is the first book in an all-new apocalyptic series.
Opinion
I was right to go on instinct wow what a fab read and another alternative twist on zombie reads.
The animals have turned on all adults over the world from cows, horses, dogs right down to killer bees, rats and cockroaches, so if your over 18 just step away from your cute kitten or sleeping puppy right now...slowly now...shush no quick movements!
Sixteen year old Shane Tucker's day couldn't get any worse. His Grans funeral in the morning, arguing with his father and walking out by lunchtime; the skies turning an eerie green and the death of millions of adults over the world...killed by the wildlife and pets around them...leaving all the children of the world to fend for themselves "what a day" is a complete understatement!
I wasn't sure if I was going to like this book being a passionate animal lover as I was guessing it would involve having to kill many cute furry animals; but it was tastefully written and most of the damage was already done...most...I said most!
Shane finds some of his friends who band together to take care of the smaller kids and try to find help and whats going on.
Mr Harris's creative mind gave this unique plot a refreshing twist by bringing in a doomsday machine, Dr Who, Thunderbirds and James Bond style. But its not as easy as just unplug it...oh no people...its in the basement of a government building armed and dangerous and if that's not all...did I mention they are on a time limit...of course they are...!
Find the Doomsday machine...check.
Get past sadistic gangs...check.
Avoid killer robots...check.
Watch-out for your friends killing you...check.
Watch-out for killer cockroaches/rats...check.
Oh and then turn off machine...hmm...simples...erm...not!!!
I honestly wasn't sure whether Id enjoy this book being a young adult genre as Im..er...over 30...I can feel my nose getting longer...but I was totally engrossed from page one and in some places I was actually holding my breath lol!
I loved how the main characters really develop quickly into thinking like adults and I found them engaging and believable and really started caring and rooting for them.
This is a compelling, action packed, thrilling read with plenty of gore and horror you are swept along without wanting to put this book down till the last page, then your gutted its ended and NEED book 2 NOW it really is that good.
The ending cliffhanger is just brilliant and I can't wait for book two this is genius.
NOTE: The Last orphans would make a brilliant film for any of you producer's out there.
Yay for a zombie breath of fresh air!
You can buy yours from Amazon
UK
/
US
/
Goodreads
Author Bio
Born at the end of the Vietnam war and raised on a horse farm near small town north Georgia, N.W. Harris's imagination evolved under the swaying pines surrounding his family's log home. On summer days that were too hot, winter days that were too cold, and every night into the wee morning hours, he read books.
N.W. Harris published his first novel—Joshua's Tree—in 2013. It was no wonder that with his wild imagination and passion for all things word related, that N.W. Harris was named a quarterfinalist in Amazon's Break Through Novel Award Contest. In early 2014, N.W. Harris joined the ranks with Clean Teen Publishing when they signed his new young adult apocalyptic adventure series—The Last Orphans.
In addition to writing, N.W. Harris has been a submarine sailor, nurse, and business owner. His studies have included biology, anthropology, and medicine at UCSB and SUNY Buffalo. He is an active member of SCBWI and lives in sunny southern California with his beautiful wife and two perfect children. He writes like he reads, constantly.
All my thanks goes to Mr N.W. Harris for sending me a copy of this book in return for an honest review.