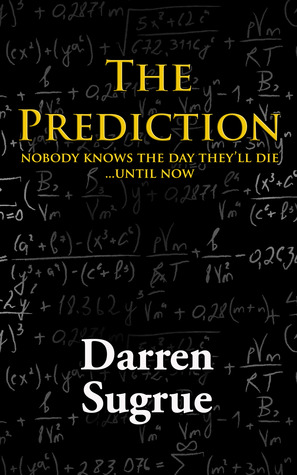 Nobody knows the day they'll die till now.
By Darren Sugrue
Oh my goodness, when Darren contacted me to ask if I would like to review his book, I almost said no as it didn't seem "my" type of genre. Then after reading his blurb, I was so intrigued that I just had to read this book....and am so glad I did.
Sorry to all you zombie-holics today as it is one book review that doesn't contain rotting corpses trying to hunt you down and eat you.
This is such a unique plot and fantastic storyline so please just take a break from zombies to read this you wont be disappointed I promise.
We are all a bit fascinated in the possibility of knowing the day we will die; some of you will say no way I'd never want to know; others of you will say yes please as I can live my life to the full. There are so many different ways at looking at this.
If I was offered the answer in an envelope, it would burn a hole in my drawer and I would have to peek...what would you do?
Anyway on with my review its so exciting!
Blurb
Nobody knows the day they'll die... until now.

Mathematical genius Daniel Geller has developed a formula to predict a person's date of death, only to have it rejected by the faculty at Trinity College. Totally devastated, he turns his back on the world he once loved.

Twelve years on, Daniel's old professor John Redmond and his wife are coming to terms with the death of their ten-year-old son. Could Daniel's formula have predicated his death? Revisiting the thesis, the professor makes an astonishing discovery: out of the five fellow students whom Daniel used the formula on, one of them died on the exact date predicted by Daniel.
One more is due to die in six days: Daniel's ex-lover Grace.
The professor draws Daniel back into the world of mathematics where he is suddenly faced with the dilemma of allowing someone he once loved to die to be one step closer to proving his thesis and enjoying a prestige he once dreamed of…
Set in the vibrant cities of Dublin and Amsterdam, The Prediction is a powerful story about coping with shattered dreams, the loss of a loved one, and an illustration of just how unpredictable the human heart can be.
I have just finished The Prediction after yet ANOTHER sleepless night; I just couldn't put it down. Ive been lucky as Ive enjoyed some really fab reads in the last few months.
But this one was a complete surprise in many ways. I thought I knew what the story was going to be about, how it would play out, even to how it may end. WRONG, WRONG, WRONG!
This is Darren's debut novel which is so hard to believe as he is an excellent writer who has created some great characters and I knew from the first page I was going to enjoy this book.
Daniel Geller PHD student created a mathematical formula to predict people's death dates. It was rejected and he couldn't continue with the PHD; devastated he split with Grace his girlfriend and started a new life.
12 years later Daniel is a crane operator when John Redmond his old professor contacts him wanting him to continue with his thesis; but he actually has his own agenda concerning his wife surrounding the death of their child.
We are actually following 2 separate but engaging plot lines in 2 cities Amsterdam and Dublin; which keeps the read exciting without too much jumping around. The first and main storyline is of David who urgently has to travel to Amsterdam to find Grace his ex girlfriend as her death date is due and he has to try and save her. Despite the fact he may lose his PHD if she lives...his lifes work. Grace however has her own personal problems shes trying to cope with. The second plotline is back in Dublin of John and his wife who are desperately coping with their individual personal grief.
These plots eventually blend beautifully and the writer obviously knows Amsterdam well; as you get a good feel for the city through his descriptive writing.This whole story is well defined with realistic believable characters.
The ending twist was just genius, completely unforeseen and certainly something I was not expecting; just brilliant.
Overall whatever genre you enjoy reading just make a change today as I feel this is one of the few books anyone would enjoy no matter whether you are a romantic, thriller, horror or sci-fi reader. Its unique, compelling novel with vivid character detailing. A must have read for almost anyone.
NOTE; I read a note from one of the reviewers of this book who warned those that had suffered a loss of a child may find this book distressing to read as its mentioned alot. However the advice offered within the actual storyline, I feel would help those who are grieving. Its written compassionately, thoughtfully and certainly wouldnt offend.
I have to say you would never guess this was Darren's first novel and I cant wait to read more from this talented author. This is why I do book reviews to find a fantastic read like this, to find the next best seller or best film, I loved it.
Author Bio
Since the age of seventeen, Darren has lived and worked all over the world, including (in no particular order) as: a forensic scientist in the UK; a dishwasher in Greece; Matt Dillon's Stand-In in Cambodia; a waiter in the USA; an au pair in Germany; a molecular biologist in Australia; a flower cutter in Ireland; a divemaster in Thailand; an analytical scientist in France and (currently) a marketing manager in the Netherlands. He has a science degree from Dublin City University. Darren lives in Amsterdam with his girlfriend, son and dog named Frodo.

"The Prediction" is his first novel.
All my thanks goes to Darren for sending me a copy for this review.
All my views and opinions are my own.