by Dominic Couzens and Richard Crossley
Blurb
People that know me, know as much as I love my technology Im a huge bird lover and naturalist and spend alot of my time as a wildlife photographer. I have collected many bird ID books over my birding years since I was a little girl many moons ago.
No ID book is the same but some are better than others; some I have as I adore the artwork or photography from that author; sometimes you just need to see a detailed image of your mystery bird to compare to see which species it is.

So I was excited to find out the lovely people from Princeton Press were sending me this award winning Crossley ID guide for me to review.
I already own a few bird books by this brilliant photographer Dominic Couzens.
The NEW Crossley ID Guide Britain and Ireland offers the readers over 300 species of regular birds we would be expected to see around the UK and Ireland. The 300 + colour plates show the birds in near and far positions illustrating the difference in plumage with distances. Also showing how the birds plumage changes with different seasons and age from jeuvenile to adult.
When I first received Crossleys ID guide from the lovely people of Princeton press to review, I did actually have mixed feelings if I was going to like this book just because of the new style of composited bird images. Its something quite different to traditional bird ID book guides.
As a wildlife photographer myself I'm a bit perfectionist when it comes to Photoshop at getting rid of distractions around the subject of my image; so it looks completely natural within its own environment. But never actually altering the subject or main surroundings itself...just tidy-ups etc.
The Crossley guide shows lots of different images of the one species on one page. It seems they have collected as many images as possible front, back, sides, inflight, bathing and feeding you name it, they've added it. Which from an ID side is just brilliant as you can match your own image or view of the actual bird with book in-hand.
BUT initially I struggled to take off my Photoshop perfectionist head off. As some images looked like they are just cut and pasted onto the page without any editing of perspective or shadowing.

BUT because of this I have to admit you CAN see the bird clearly and it does allow the photo to pop from the page.
So I feel the author isn't actually trying to blend the images at all but simply adding as many variations of the bird as possible and instead of having just a clinical white background they are using natural habitat backgrounds, making this ID guide extremely colourful and visually interesting.
As soon as I got my head round "the Photoshop thing" I really enjoyed looking through this colourful guide and its a pleasure to see so many photographic variations of one species on one page. I have also been using this book to ID some of my own wild birds and have infact found it highly useful. This book is thorough and descriptions detailed about species specific behavior, breeding and placement as well as physical size, seasonal plumage and feeding.
A nice touch is the mini index of birds at the front for the times when you know what species you want to look up.
Each species has easy to read section on physical size, plumage, feeding and behavior.
The easy to read colourful map on on each species page; shows when and where they can be found at different times of the year. This is invaluable to the avid bird watcher and photographer that travels to find their birds.

The back book flap has photos and summary about of the 2 authors.
This book has literally grown on me; I've gone full circle from unsure to love. I have always valued both Dominic Couzens and Richard Crossley as they are excellent photographers and naturalists. This is the perfect ID book and gift for the beginner to the advanced birder because of the many photos of each species with the added variations in seasonal and age colourations. Plus the fact they are in natural backgrounds it gives you a feel of real birdwatching as you have to look for some of them more closely.
So this Crossley ID guide now has earned a firm place on my birdy bookshelf.
You can buy your very copy from
Dominic Couzens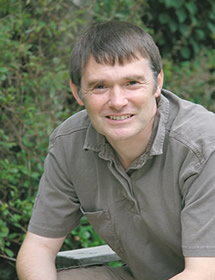 Hello, my name is Dominic Couzens and I am a writer, with more than 20 book titles to my name. I have also been a regular birdwatching field trip leader since 1988 and organise and lead birding trips in the UK. I love meeting people and sharing with them the things that excite me about nature, especially my main area of expertise, which is bird behaviour. I believe passionately in communicating greater understanding about the natural world and am fortunate that the opportunities offered to me through my
books, magazines and TV work
enables me to share an understanding of birds and other wildlife.
I live in Dorset, UK, with my wife Carolyn. We have been happily married for 12 years and have two young children. In my spare time I'm a great fan of football and cricket and, in fact, most other sports as well. Sometimes I have even been known go sledding downhill at great speed on an old tea-tray.
Richard Crossley was born in Yorkshire, England. This internationally-acclaimed birder and photographer grew up living for sport. Hooked on birding at age 7, he hitch-hiked over 100,000 miles to follow his passion. In his 20's he traveled more extensively, particularly to Asia and North America. He fell in love with Cape May, NJ and he has lived there since 1991.
Self-employed in corporate America, in recent times he has turned his attention to books and the role of photography. Since The Shorebird Guide, Richard's goal has been to make lifelike scenes that are more visually striking and educational. With multiple projects on the go, Crossley Books and The Crossley ID Guide series are intended to have a significant impact on how we look at birds, wildlife and books.
Initial forays into video and TV should play an even more important role in popularizing the sport of birding and love of the outdoors.
All my thanks to the lovely people from Princeton Press for sending me this guide for this review.
All my views and opinions are my own.