By Bobby Adair
Blurb
Book 1 – Slow Burn: Zero Day
Book 2 – Slow Burn: Infected

Slow Burn: Infected picks up the story of Zed, Murphy, and Jerome where Slow Burn: Zero Day ended.
All three have all been infected but have not succumbed to the most pernicious symptoms of the virus. They're not the mindless cannibals that most infected are. Nevertheless, their band of survivors, fearful about the trio's infections, have ostracized them.
Now, back on the street, with weapons to defend themselves but little food in their packs, they embark on a search for Murphy's family while following the rumor of a safe haven in the form of a doomsday bunker under a house in east Austin.
But the world is more hazardous than they could have guessed. They expect violence from the voracious infected but they have harsh lessons to learn about the lethality of the uninfected. And without people to support the infrastructure of modern civilization, they find that danger comes in many forms.
Opinion

I really enjoyed the second installment of Slow burn probably a bit more than the first. I read this in one sitting as yet its another book I couldn't put down.
My addiction to zombie/dysotonian reads is definitely getting worse, but what makes it special is when you find a book or series you love. Slow Burn has definitely become another favorite for me.

We continue to follow Zed and Murphy after they have been cast out from the safety of the soldiers because they are "infected" and Murphy goes looking for his family. I love the twist that they can walk among the dead and that there maybe more humans with a "slow burn".
In book 2 we are introduced to another character Mandi a younger girl who they rescued. She adds extra female interest and brings a nice balance to the new group and she is so relatable and fits in well.
The clever twist is Zed and his mobile keeping in contact with Amber and Stephanie hopefully book threes proposed storylines. New interesting character Russell makes fascinating interest and keeps on your toes.

Despite not as fast paced as the first; it allows us to get to know more about the main characters in much more depth. Bobby has a great sense of humour emanating from these two guys; with some funny and comical banter between them. Both Zed, Murphy, Russell and Mandi are well developed characters and I really love Zed the hero with a heart of gold.

Another unique twist is that Zombies behavior is evolving into dangerous pack mentality for extra thrills and just when you think book two is rounding up with some great ideas and their plans of the future; Ambers frantic call pulls the hero Zed to go and find her. Wow what a cliffhanger Bobby kept some fab storylines open; teasing us for book three.

Highly recommended zombie read with some unique twists from others in the genre. Definitely read book one first to get the full plot.

Brilliantly written and I cant wait for book three...hurry!
Keepem coming Bobby!
Author Bio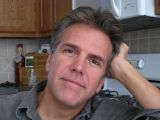 Bobby was conceived in Japan, born in Michigan, is a card carrying Cherokee, is descended from a Polish slave, an African slave, countless European immigrants, and displaced American Indians. He grew up as a military brat, so lived in ten different states and lost count of the schools he attended before finally graduating high school in Texas. After attending the University of Texas, he lived most of his adult life in and around Austin before moving to Colorado in 2012.

Bobby has starved as a guitar player in a penniless metal band, spent too much money as the owner of several successful restaurants, spent years working for "the man" in large companies as a computer programmer, and made and lost more money than he'd like to admit playing in the stock market.

These days, he spends his time walking his dogs, mountain biking, road biking, hiking in the mountains, still writing code for "the man", and chasing his dream of becoming a successful writer.
Please see my full book review on the first in the trilogy