Blurb
A new flu strain has been spreading across Africa, Europe, and Asia. Disturbing news footage is flooding the cable news channels. People are worried. People are frightened. But Zed Zane is oblivious.

Zed needs to borrow rent money from his parents. He gets up Sunday morning, drinks enough tequila to stifle his pride and heads to his mom's house for a lunch of begging, again.

But something is wrong. There's blood in the foyer. His mother's corpse is on the living room floor. Zed's stepdad, Dan is wild with crazy-eyed violence and attacks Zed when he comes into the house. They struggle into the kitchen. Dan's yellow teeth tear at Zed's arm but Zed grabs a knife and stabs Dan, thirty-seven times, or so the police later say.

With infection burning in his blood, Zed is arrested for murder but the world is falling apart and he soon finds himself back on the street, fighting for his life among the infected who would kill him and the normal people, who fear him.



I really enjoyed this book, its yet another great post apocalyptic action zombie read for you zombie-holics like me.


Its another fantastic take on the explosion in zombie books around at this time. Zed is a slacker down on his luck and starts his day by finding his Mother dead and his Dad viciously attacking and biting him on the arm. Zed has to kill him or be killed; he falls unconscious as his infection takes hold and we sit alongside him as he tries to do the right thing and calls the police; who immediately arrest him, and it nearly cost him being lockedup for life as the police don't hesitate to try and blame him for the murders....surprise surprise!
He luckily manages to break out of jail during all hell and zombies breaking loose inside with some new friends; as he fights for survival on the streets.
What makes this zombie read slightly different is that it covers the beginning stages of his infection and how he isnt turning into a full zombie, he is a "Slow burner" but he finds he isn't either zombie or human.


Its my first book Ive read from Bobby Adair and I loved it, great writing well planned out scenes and evenly spaced difficult situations. Its well balanced and believable, and Im loving Zed and care what happens to him, his completely believable.
The other characters are also well supporting especially Murphy and add well to this exciting plot.
I didn't expect the ending but understand and its about human nature of how we want to survive. Bobby has pickedup the good and bad in people and how it would manifest in horrific situations. I have been completely hooked and loved this book its a great fast paced read if you love your zombie reads grab this book.
Now Im off for
Slow Burn 2 Infected
...watch this space!
Amazon UK
Author Bio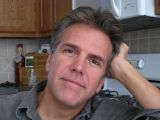 Bobby was conceived in Japan, born in Michigan, is a card carrying Cherokee, is descended from a Polish slave, an African slave, countless European immigrants, and displaced American Indians. He grew up as a military brat, so lived in ten different states and lost count of the schools he attended before finally graduating high school in Texas. After attending the University of Texas, he lived most of his adult life in and around Austin before moving to Colorado in 2012.

Bobby has starved as a guitar player in a penniless metal band, spent too much money as the owner of several successful restaurants, spent years working for "the man" in large companies as a computer programmer, and made and lost more money than he'd like to admit playing in the stock market.

These days, he spends his time walking his dogs, mountain biking, road biking, hiking in the mountains, still writing code for "the man", and chasing his dream of becoming a successful writer.
See my review of Book 2 Infected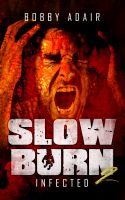 Also part of my Dysotonian Challenge and Sequel challenges