Anyone in your family suffer with asthma..or maybe you do. I've been an asthmatic as long as I can remember and one of my huge pet peeves are the badly designed puffers or inhalers.
Who actually thought that an open topped case was a good idea. Why on earth have open gaps at the top of a medical device for people who have trouble breathing already; so dust and dirt can literally fall into the holder that you suck directly into your lungs....jeeze come on
!
Yes I know we can rinse them out in warm water and Im doing that all the time. But when you have them all over the house like me and in every bag, dust will develop in some. I have to be so careful and luckily only 1 occasion did I nearly suck up a piece of fluff.
Hmmm...Death by fluff...not the coolest way to go is it.

Sooo I was searching online for cases to see if you could actually buy specific inhaler cases. I found a few; but again not all are suitable as they still make the grave error of having the top of the inhaler uncovered... some I found were even made of wool...Ohh...come on...what planet are these designers on...do they really understand asthma?
Finally I came across the Sportshaler...Hallelulah!
Made in Australia by Auspharm pharmacuticals.
A covered hygenic sealed body that prevents dirts, dust and moisture from entering the device...yesss, I ordered 2 immediately.
The Sportshaler is the next generation inhaler case which has been developed for anyone who has asthma, but they have more active people in mind in their adverts, so you can carry it with you in safety and style; but to be honest every asthma patient needs one of these!
The Sportshaler is designed for Ventolin sized cannisters at this time, hopefully more sizes later on.



Packaging showing the Sportshaler and extra spacer cap.
What I love about this case is that it has a retractable mouthpiece as you can see above.
A simple twist and its sealed from all dust dirt...and...er...fluff....yay!
Its hygienic and compact in design and can be safely thrown into any bag with the knowledge its going to be clean and safe to use, no matter what the state of the bag you throw it into.
Its also easier and quicker to use as there's no fussing with taking the finicky caps off, Ive lost count of how many caps Ive lost. With the sportshaler a simple twist and its closed.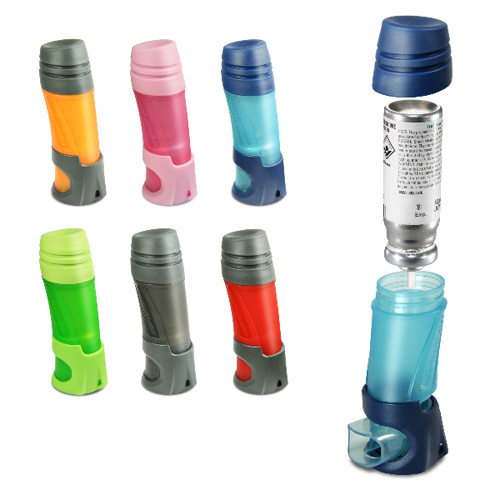 Simply remove the cannister from the original ventolin inhaler, peel off the flexible rubber top of the Sportshaler and snap in, then replace the sealed top cap.
Twist the bottom to reveal the mouthpiece and press down on the top rubber cap to deliver a measured dose like you would do normally; its an all in one unit, no bits to lose...yay!
They have thought of everything down to the semitransparent middle to see the expiry date on your cannister.
When finished simply twist and click to form a complete protective seal...genius...!
Sportshaler features
Sealed body and flexible end cap to help prevent dirt and moisture from entering the device, increasing user safety
Weatherproof, compact design that is hygienic and can be easily cleaned under warm running water
Retractable mouthpiece that allows for protection and comfortable carrying in a pocket - there's no mouthpiece cap to lose, and when closed, the mouthpiece is kept clean and dry
Reusable - when your medication canister is empty you simply insert a new one
Semi-transparent polypropylene body that allows for easy inspection of medication expiry date
Choice of funky colours to reflect individuality and fashion - a colour to match your running gear or gym outfit.
It has a small built in keyring hole at the back, to clip to a lanyard and wear round your neck or just attach to a keyring, its your choice.
It also comes with an extra mouthpiece (the dark grey part) for those that need to use a spacer, this is however removable and could easily be lost, but they thought about it..so hats off to them.
You also have the option to purchase a sports holder pack; so you can clip it to a belt for those hiking or playing sports. I didn't see this option until I had ordered my two, as I was so excited I'd finally found the case I have been looking for, I'd didn't look at anything else or I would have bought that too, maybe Ill get another later on.
A brilliant idea that I have been looking for for over 30 years. Ive lost count of the number of times Ive found dirt inside my inhaler case, this is such a huge health risk, especially for someone that has trouble breathing...Ohh....dont get me started again!
My only slight niggle is that the removable top cap is a little fiddly to get on and off as its sooo flexible, the knack is to peel it on and off, but those with arthritic hands may struggle; a harder top would have been easier.
But Im a happy bunny to have discovered these inhaler cases; I will be recommending this to every person with asthma you really do NEED one of these!
You will never have to worry about losing the mouth cap and to top it all, it looks modern and funky with the option of the 6 colours, I will be buying a few more as you cant put a price on safety.
Sportshaler is an ideal extra gift for someone....er...as much as its not diamonds and chockies it shows you care for that person, they will thank you for it...well maybe get the chocks too though ;-)
Its sleek and stylish with I feel an appeal for the younger patients as well as older.
I got mine from ebay from
this seller
, it arrived quickly and well packaged and he offers the single sportshaler or the active pack in most colour options.
£4.40 for the single,
£5.40 for the Sportshaler and pack.