Ive reviewed a wide variety of products
in
the last few months and Im excited to be sharing a gorgeous, elegant speaker with you today. 
Its a hot English Summer day and we are making the most of this glorious weather, but those Summer days can be made better with some sounds, whether its for your barbecues, days out in the park at the beach or in the comfort of your own home.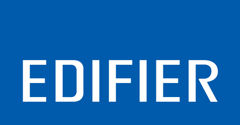 So when I was kindly offered this portable Bluetooth speaker from Edifier, I just couldn't resist those sleek elegant curves.
So grab a coffee and snack and checkout my video unboxing, 1st impressions and full review below.